A fast, sensitive, and light Portable Radio Frequency Detector
which is optimized for wireless security inspections.
Checking information leakage through wireless eavesdropping during corporate
meetings and protection against privacy invasions in hotels, motels, toilets, etc.
and removing wireless security threats such as wireless hacking protection
from spy chips is only possible with a high-spec Portable Radio Frequency Detector.
What is ALPHA-P, a Portable Radio Frequency Detector?
01.It can quickly respond to threats such as wireless eavesdropping, hidden cameras, hacking, etc.
02. Independent operation is possible, and the effects can be maximized when used along with a 24/7 detection system.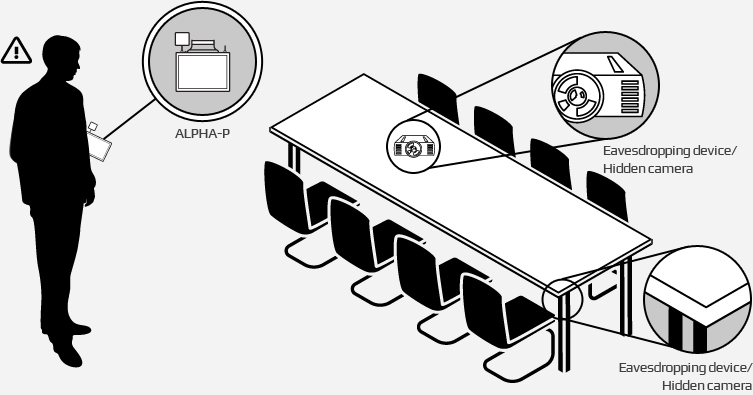 Ultra light-weight Portable Radio Frequency Detector that can analyze wireless signals in real-time

Scans all detection frequency ranges within one second

Estimates the location of the selected frequency

Remote detection is possible by separating the body and the display
Check out ALPHA-P!
The Portable Radio Frequency Detector can be carried around and used to detect wireless threats and their location in real-time.
Body (RF)

High-speed, high-sensitivity wireless frequency detection

Tablet PC (Display)

It can be operated separately through Wi-Fi connection with the body
Operating process of Portable Radio Frequency Detector
Field investigation

Detection experts arrive at the scene and check the wireless frequency environment.

Detection process

Signals and their intensity are checked and abnormal signal sources are detected.

Tracking the signal source

Upon detection of an abnormal signal source,
a beep sound is produced according to the intensity of the signal.

Removal

After tracking it down, the detected device is removed.