The Wireless Hacking Detection System detects wireless spy chips which incapacitate the network separation system
by invading the server room, office, operating room etc.
SuperMicro, a company that specializes in server hardware had a small spy chip in a motherboard ordered from a Chinese partner company and this product was sold to over 31 institutions and companies.

Due to wireless hacking through spy chips, the cyber warfare between the US and China has spread across the world arousing attention to the severity of this issue.
Watch product video
The New York Times (NYT) reported the hacking technology developed by the NSA has been planted in more than 100,000 computers
across the world including China since 2008 and was used not only for stealing information but also for cyberattacks.

By installing spyware through circuit boards or USBs to target computers, through remote control through a remote control center,
the target computer network can be paralyzed from up to 13km away.
What is ALPHA-H, a Wireless Hacking Detection System?
01. It actively protects against wireless hacking through real-time surveillance 24/7.
02. Through location estimation between Remote Terminals, it points to the location of the signal source.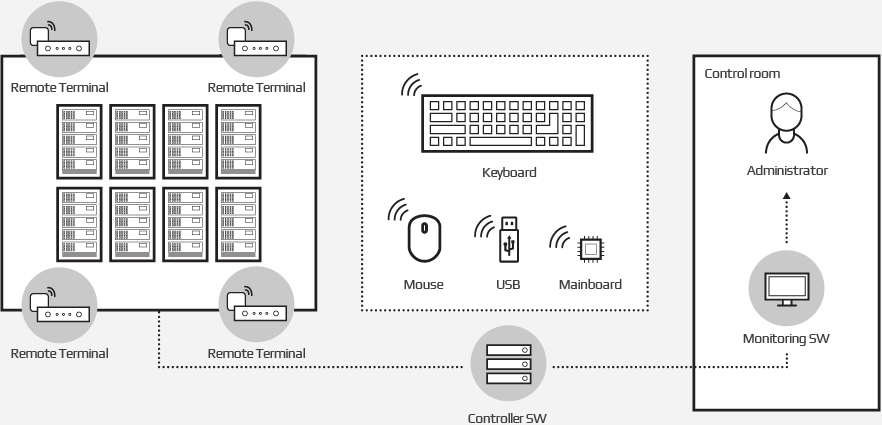 Protects against wireless hacking 24/7

Scans all detection frequency ranges within 1 second

Estimates the location of the wireless hacking device

Integrated control of Remote Terminals

Detects frequency ranges of 25kHz - 3GHz

Easy use (remote diagnostics, updates, reports)

A precise detection resolution of 25kHz
Check out ALPHA-H!
Safely protects the system environment by detecting the 25kHz - 3GHz wireless range
more than once a second for wireless hacking attempts.